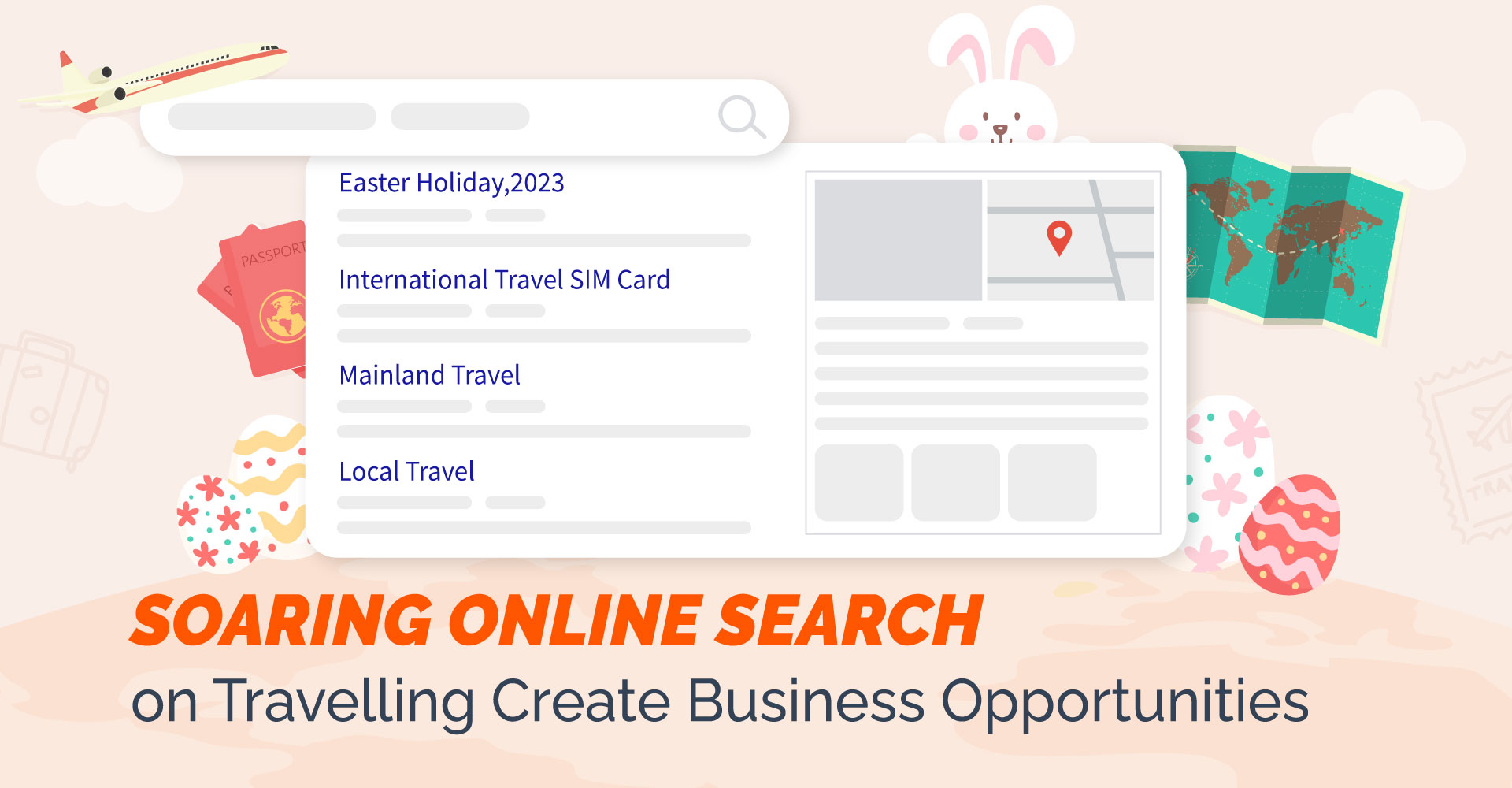 Hongkongers Resume Travel Triggers Online Search Volume
Mar 27, 2023
The moment which most Hongkongers long awaited as the Hong Kong government announced the "Hello Hong Kong" campaign in early February and that Hong Kong-mainland border finally reopened to foreign tourists. It came as no surprise that Hongkongers swiftly planned for the Easter holiday as corresponding to the soaring volume of online search for air ticket bookings for inbound and outbound destinations increased by more than three times at 395% on February 13.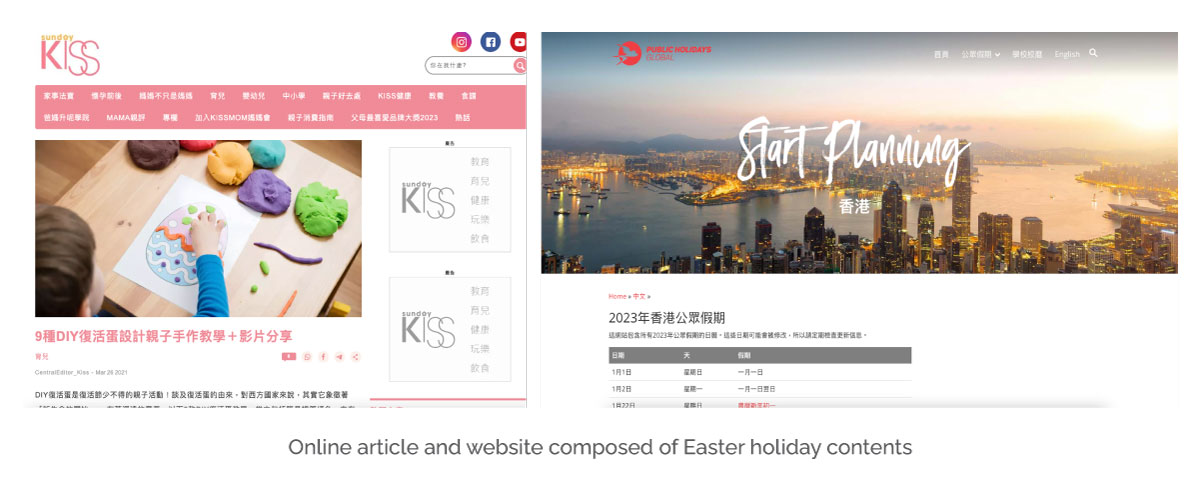 Traveller Insights for Marketers
In view of international travel resumes, both to or from Mainland China and overseas destinations, Hotmob team investigated data further to bring in the insights derived from various audience groups.
According to the search count of Easter-related content, it is quite obvious that International travel stands out from the rest as the most popular travel destination for Hongkongers to spend their Easter holidays. While mainland travel is highly favoured by Hongkongers as the mainland borders finally reopened.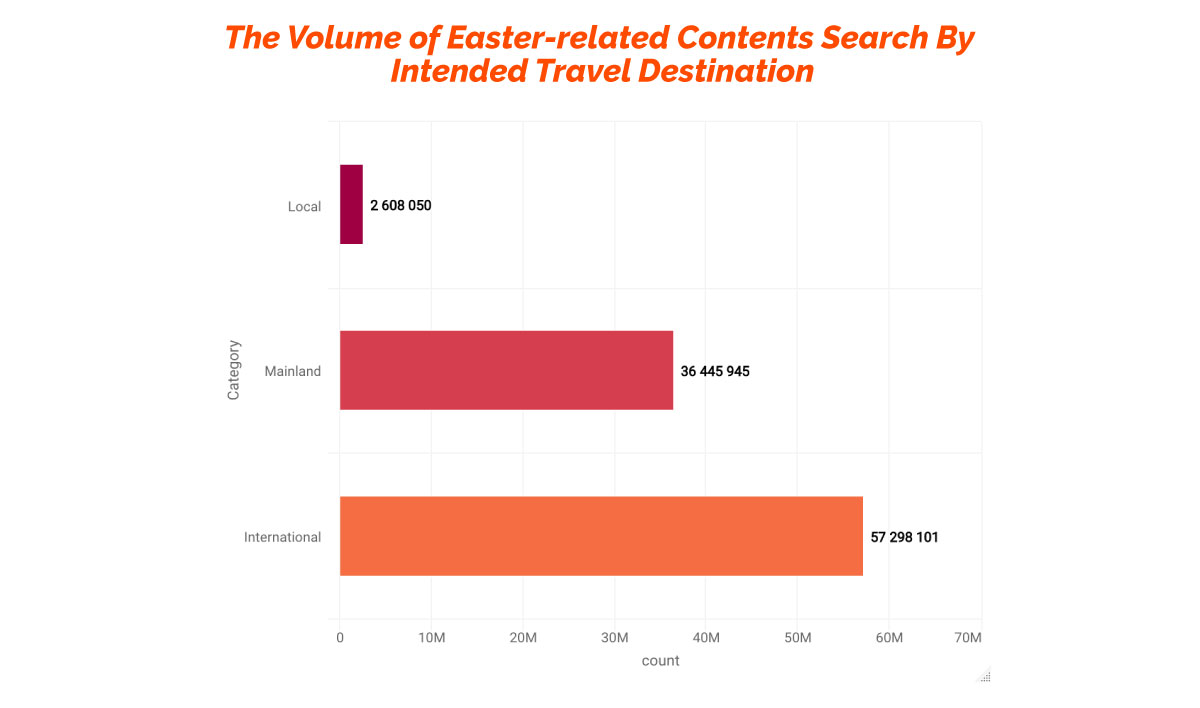 Group A : Interested in International Travel
Among all International travel destinations, our analysis sums up the top 4 favourite travel destinations of Hongkongers and they are all in the Asia region.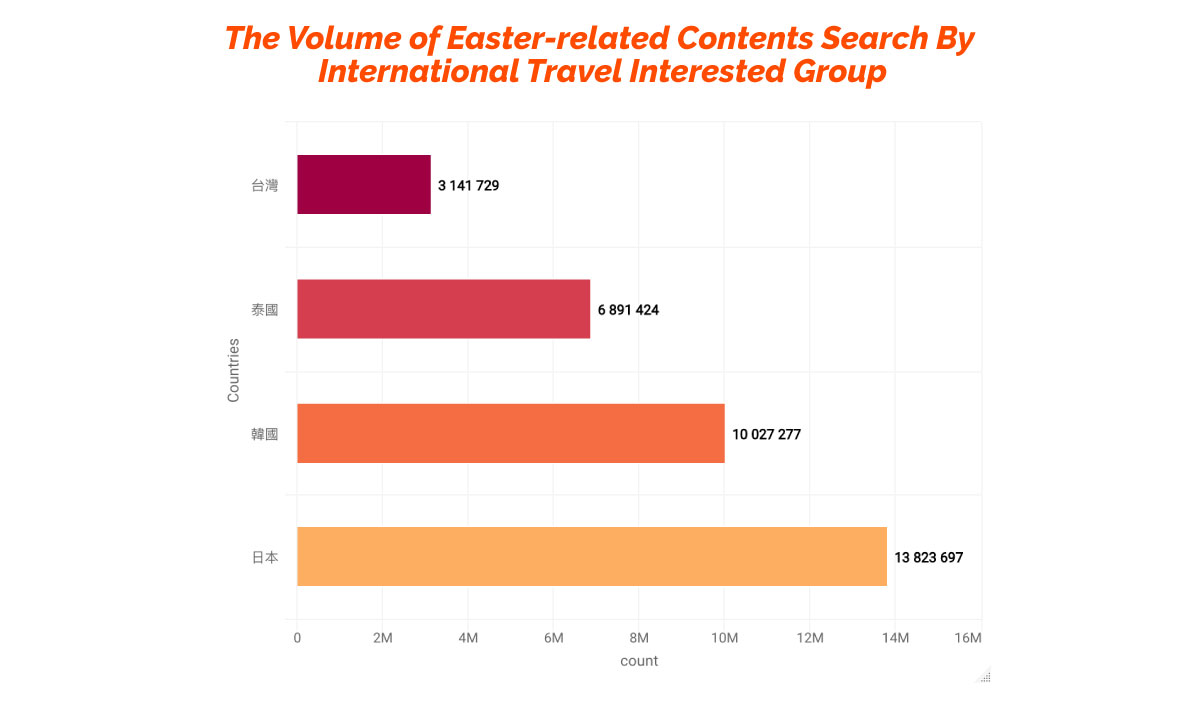 JAPAN (日本) – the so-called hometown of many Hongkongers still remains as the favourite travel destination
KOREA (韓國) – with the influence of K-pop culture and that travel costs is more or less the same to Japan

THAILAND (泰國) – budget wise, an all-time favourite travel destination of many Hongkongers

TAIWAN (台灣) – a less favourable destination compared to the top three yet the closest to Hong Kong; a short haul destination thus convenient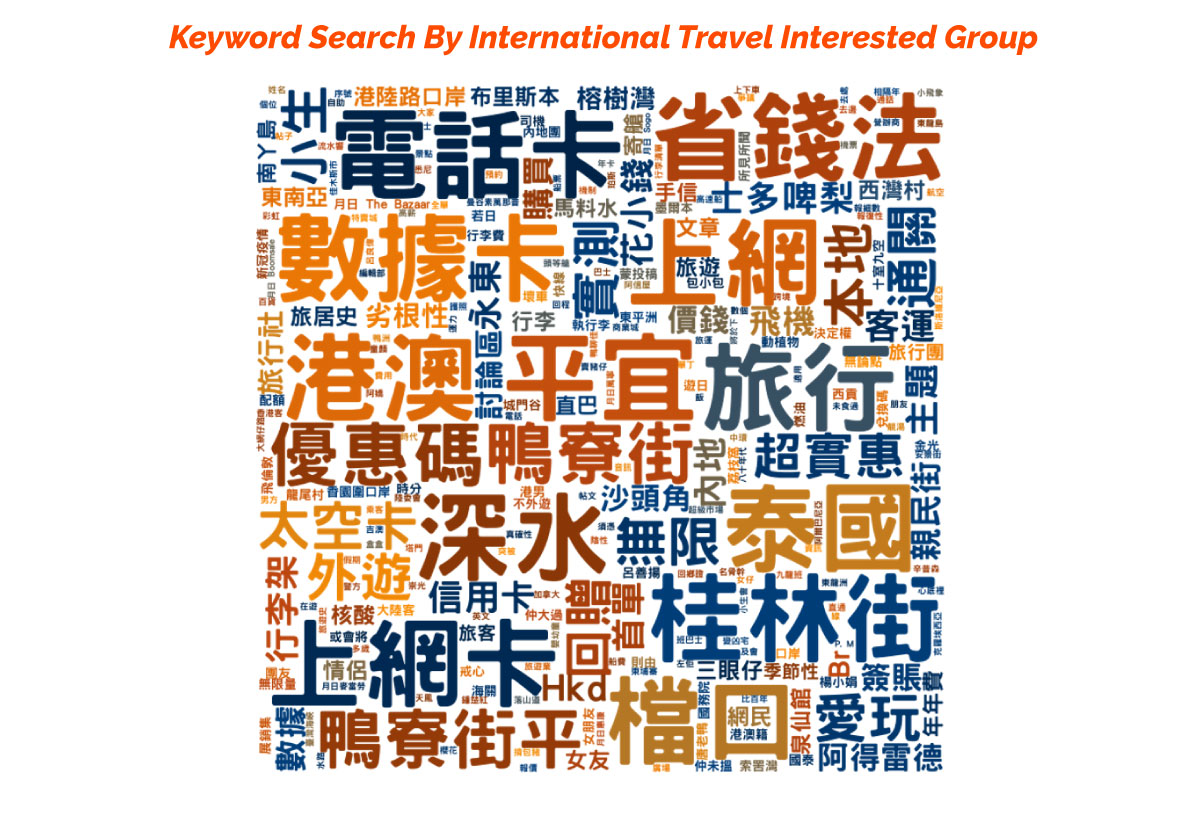 According to the most popular keyword search by audience who are interested in international travel, it is not difficult to understand that there is a high tendency to search for travel-related items such as "SIM card" (電話卡), "Data card" (數據卡), "Internet" (上網卡) are the top searched keywords. 
The word cloud even highlights their search intents is to get "budget" (便宜) SIM/Data card via "discount code or special offer" (優惠碼/省錢法), as well as mentions the specific locations to get them, like "Shum Shui Po" (深水埗), "Ap Liu Street" (鴨寮街), and "Kweilin Street" (桂林街).
Insights:
Internet service providers and retailers can promote SIM cards or data cards by targeting International Travel Planners segment and advertise on website domains which publishes travel articles.
Group B : Interested in the Mainland Travel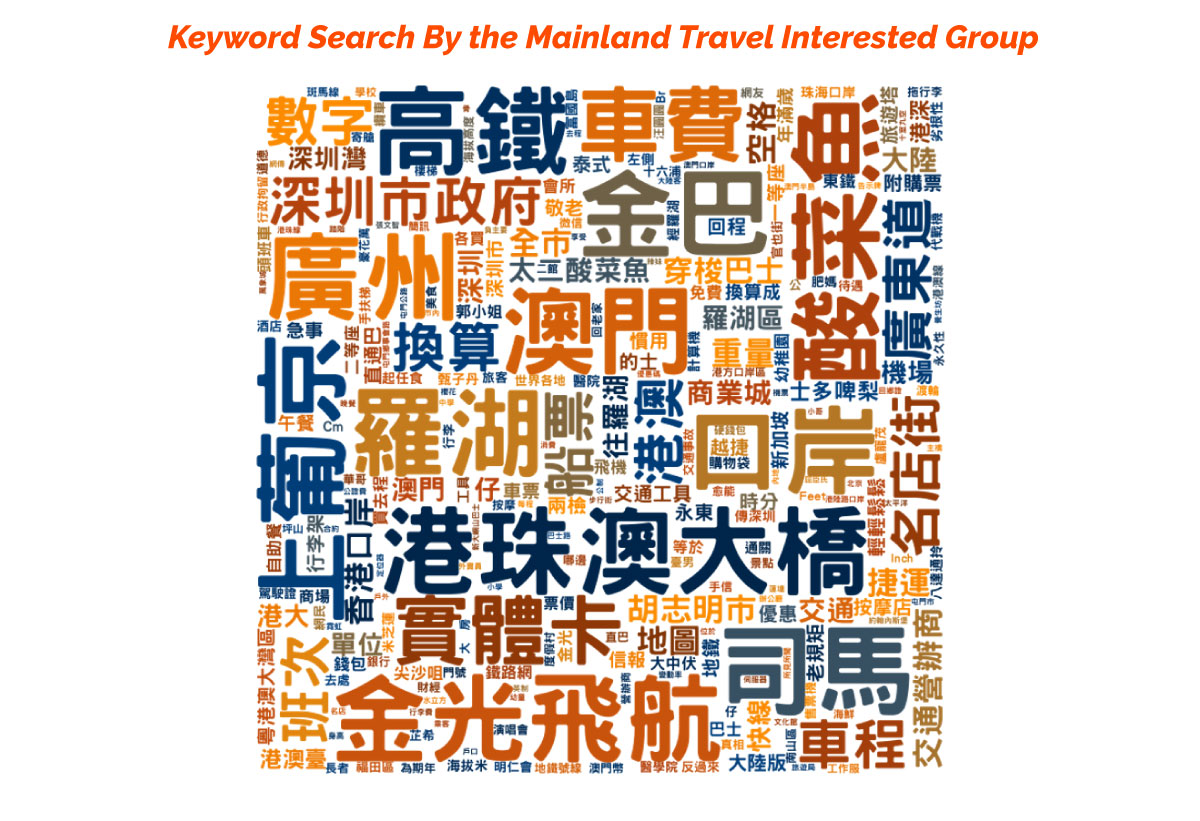 The reopening of the Hong Kong-mainland border and easing travel restrictions, in addition to cross-border transportation resumed, are the key drivers to travel inbound. Many Hongkongers are interested in travelling to the mainland such as "Zhuhai" (珠海) and "Guangzhou" (廣州) within the "Greater Bay Area" (大灣區) and "High Speed Train" (高鐵) as the preferred transportation.
Apart from the mainland, this interest group also shows high intention to visit "Macau" (澳門) through channels like "Hong Kong-Zhuhai-Macau Bridge" (港珠澳大橋). Top searched transportations are "Gold Bus" (金巴) or "Cotai Water Jet" (金光飛航).
Insights:
Travel agents or hotels can take advantage of increasing sales by targeting this group of audience with predefined segments by Hotmob to sell ferry or bus packages or to offer promotion for travellers in groups or couples.
Marketers in the hospitality industry can offer food and entertainment packs utilising geo-fencing targeting at Hong Kong Macau Ferry Pier, TsimShaTsui - Canton Road, China Hong Kong City where major Hong Kong-Macau ferries operate.
Group C : Interested in Local Travel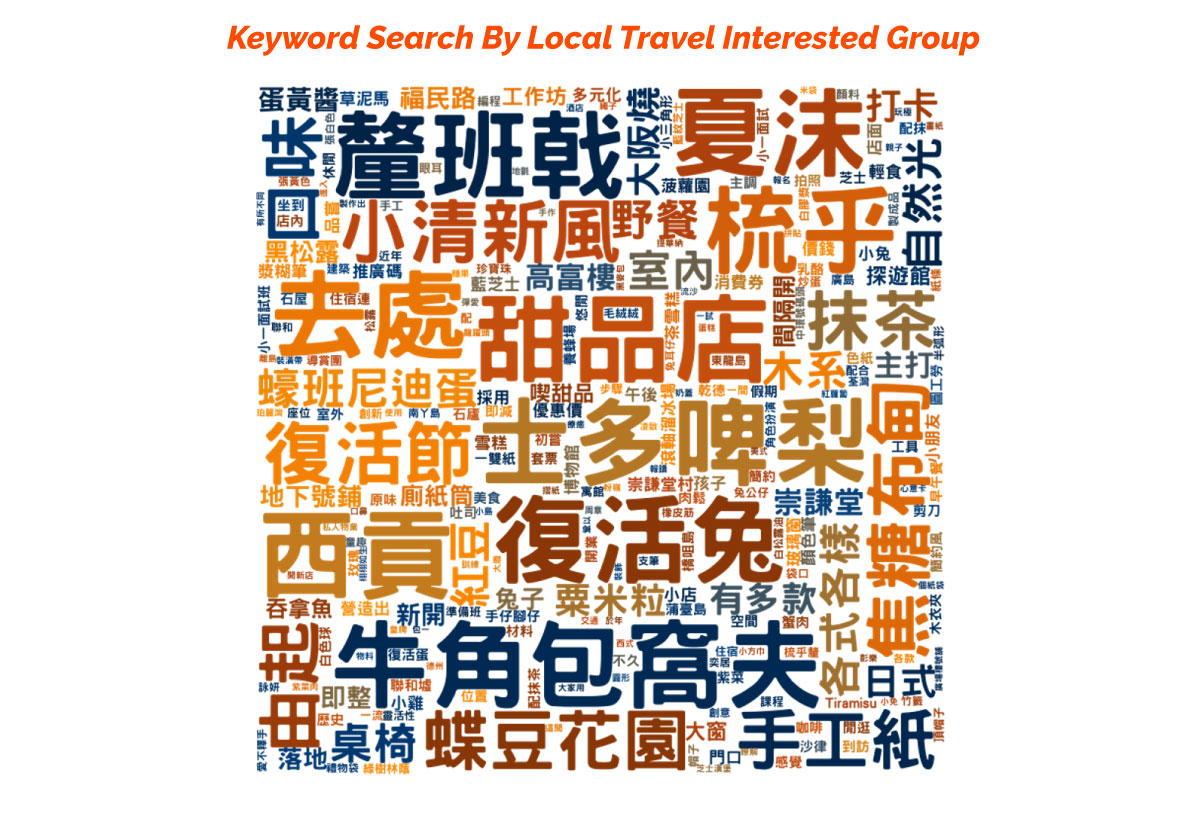 In contrast to the previous two interest groups, Hongkongers who do not plan to travel aboard this Easter holiday have different search intentions. Most searched keywords regarding food and beverage contents, especially Instagrammable food like "Croissant Waffle" (牛角包窩夫), "Strawberries" (士多啤梨), "Pancakes" (班戟), and "Crème brûlée" (焦糖布甸).
Since the searched keywords are sweet related, associated places like "Dessert house" (甜品店) with a pure and fresh style "(小清新風). Outdoor family-friendly places like "Butterfly Valley"(蝶豆花園) located in Tai Po and "Sai Kung" (西貢) seem to be really popular among local travellers.
Insights:
Restaurant and cafe business owners can develop Easter theme campaign which showcase their signature dishes or to draw new customers for visits to special theme local destinations by advertising on website domains and associated Instagram pages that are listed in food and travel segments provided by Hotmob
Summary
Overall, the tendency of many Hongkongers to travel abroad seems high but travelling to the mainland and the Greater Bay Area is also high as indicated by the large volume of online search. The in-depth analysis on Easter related-content and audience interest groups provides marketers traveller insights to develop a viable action plan to target this audience.
Wondering how content and keyword search analysis can add value to your marketing campaign development? Discuss your needs with Hotmob to offer you advice on that.