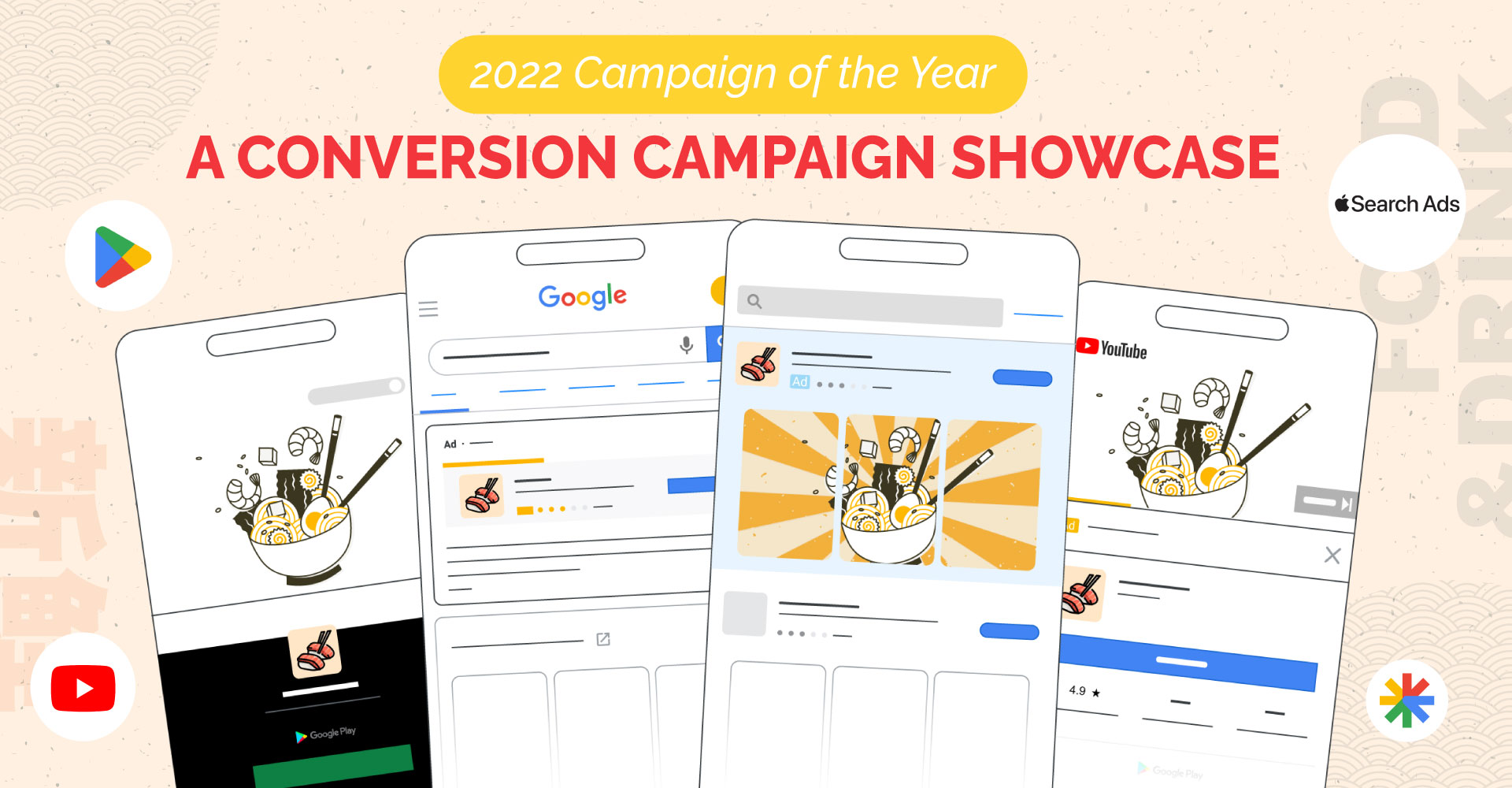 Crafting a Winning Digital Marketing Strategy that Improves Conversion Rate
Jan 18, 2023
With time and resource constraints, content demands, platform fragmentation and challenges in evaluating return on ad spend (ROAS), most advertising decision makers are often forced to become the jack of all trades in small to medium-sized businesses (SMBs). Not to mention the challenge of getting their brands and products to be seen by the right audience within the advertising clutter, and plus getting the most out of the ad budget. Would it be better off to have a reliable digital marketing full-service provider with rich data coverage across both app and web to support their efforts?
Taking that into consideration, Hotmob wrapped up 2022 with a comprehensive campaign showcase to demonstrate the execution of digital marketing strategy across multiple digital channels with device data insights, and ways to drive leads to reach conversion targets.
Let's get on to it.
The Campaign Objectives & Strategies
Riding on the festive seasons, Singles' Day (11 Nov) and Double 12 (12 Dec), the operator of a Japanese multinational fast-food chain in Hong Kong aimed at driving brand awareness the interests and consideration of their target audience via the brand site, and then transit to the order site to drive conversions. 
Multiple campaigns spanned from November to December in order to achieve the above objectives, at the same time taking advantage to drive app install as there were a series of events lined up and to align the revamp of the membership mobile app, coupled with flash deal offers and new branch opening. Hence it takes some time to build awareness, back and forth retouch the prospects and re-engage customers for re-purchase. This highly targeted campaign covers all parts of the marketing funnel as shown below: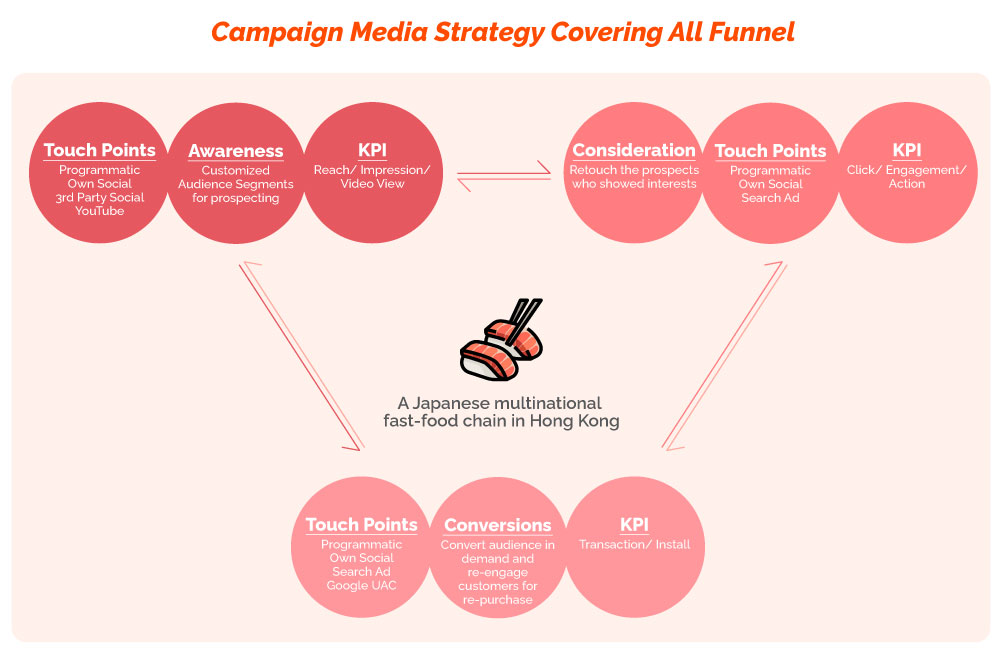 Increase Reach with Custom Audience
Based on a combination of data signals derived from multiple data sources like contents of web articles, mobile apps and frequently visited locations, selective audience segments were generated for audience targeting by Hotmob's Custom Audience Creation (CAC) in the first stage of the campaign. 
These custom audiences or personas were identified and created based on a number of hypotheses and interests. For instance,

Through CAC, the Japanese fast-food chain was not only able to engage prospects from in-market audiences such as Donburi Lovers, but also the mentioned custom audience that were not available from other media platforms and digital channels.
Matching Audiences and Campaign Optimization
While most advertising decision makers might reckon that each media platform or channel will provide them the best campaign results with the right campaign settings and target audiences, many often lack the ability to align internal and external datasets to reach highly relevant audiences. Why is this critical? As this makes a real difference in the efficacy and effectiveness of a campaign, and in turn not letting ad budget wasted on something that doesn't work. 
In addition, controlling the frequency capacity of the campaign to maximise reach while maintaining sufficient exposure is just as critical. With a limited ad budget and time, how can a campaign be tested on various media channels and optimised by utilising the remaining ad budget in the most effective media platform.
Through Hotmob Programmatic Network, the Japanese fast-food chain was able to retarget and engage website visitors and lookalike audiences with relevant contents in attractive ad format. A sample mobile ad with 'Limited-time Offers' (限時優惠) was designated to 'frequent fast casual diners', 'university students' and 'office workers', in which these audiences were engaged to redeem combo set vouchers via the app. Thus to boost the number of online orders and to drive membership mobile app install.
Driving App Install via Apple Search Ad & Google UAC
Besides Hotmob Programmatic Network and social media channels, Apple Search Ad and Google Universal App Campaigns (UAC) were adopted as part of the strategy to drive app installs.
As seen on the iOS App Store pinned at the top of a search result page, Apple Search Ad — action-driven ads (with a call-to-action 'GET') are designed to capture high intention audiences. For instance, a number of relevant search keywords were pre-established for the Japanese fast-food chain to target audience who might be searching for food and drink app:
Generic terms e.g. food & drink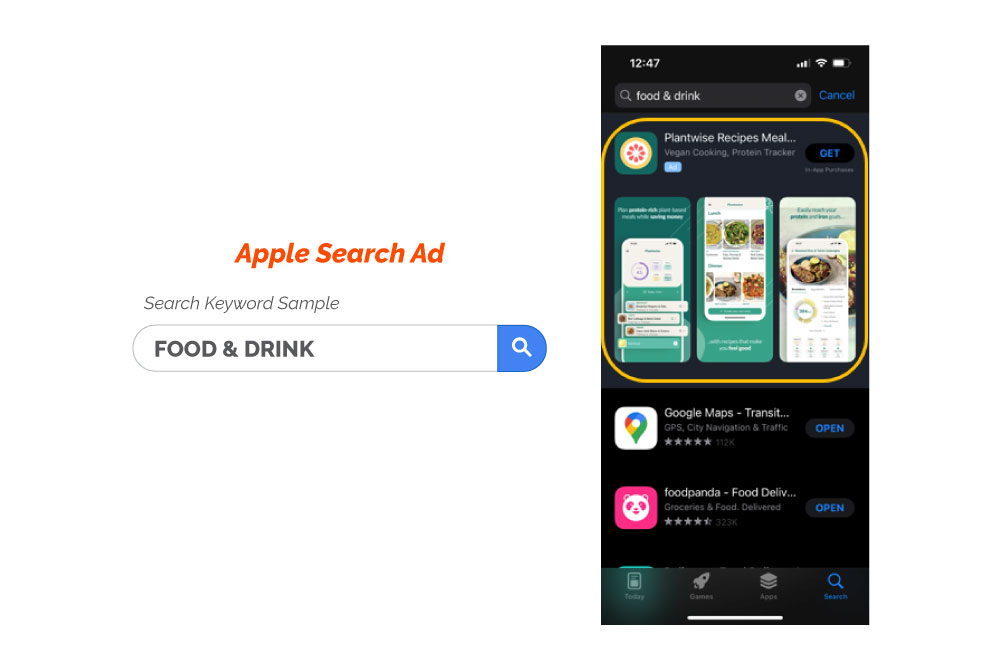 With Google Universal App Campaign (UAC), an app install campaign usually appears right after a user typed a search keyword(s) in the search engine, in various formats and layouts such as on Google Search Results Page, YouTube, Google Play, Display Network and Discover. The main difference to Apple Search Ad is it is an automated ad type utilising machine learning to identify the best performing ads and show the ad to the most relevant user. Hence to help advertisers generate app install or drive in-app conversion.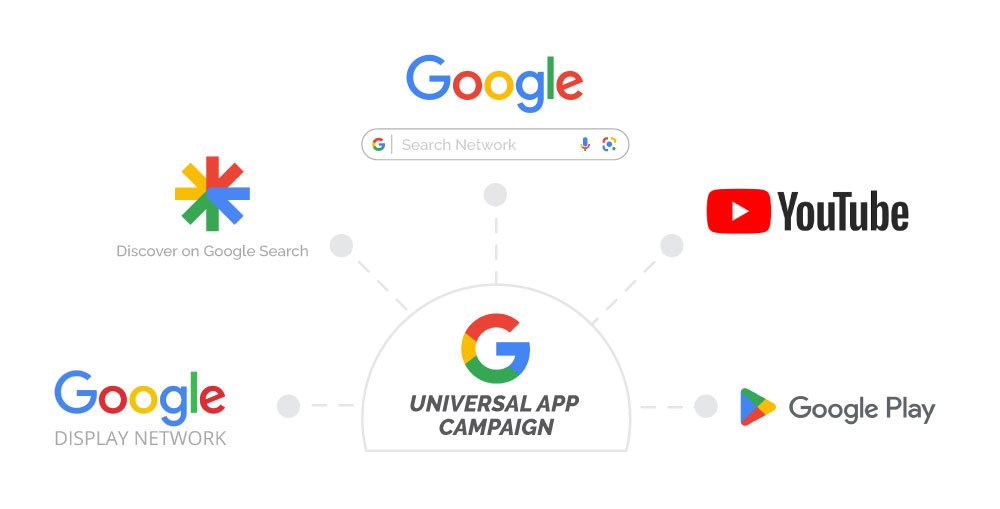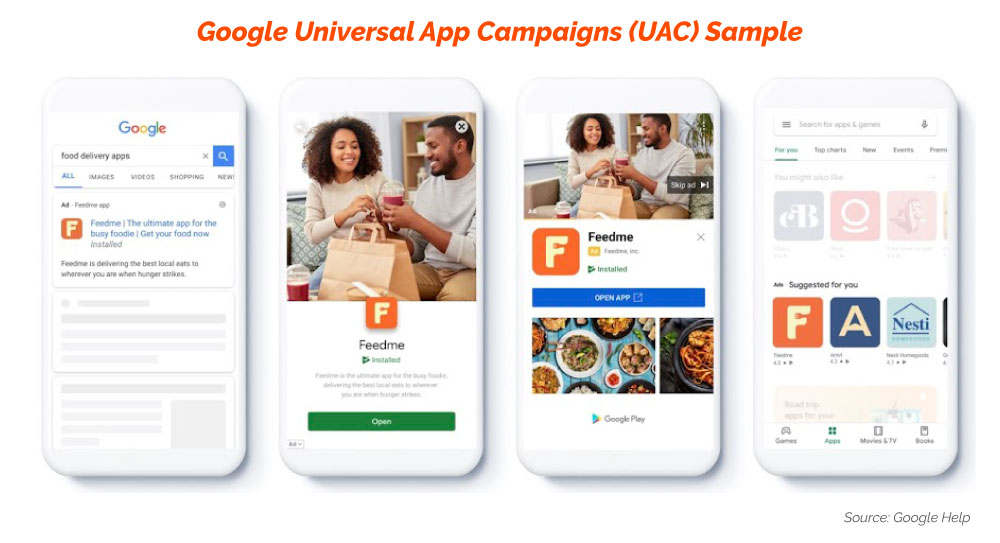 Reach Business Target & Drive Conversions
Hotmob is known to many advertisers as a long-established digital advertising company in the industry, our creative and data-driven digital advertising solutions have also been acknowledged by our clients as a full-service advertising agency.
No matter whether you are looking for solutions to drive leads or to enhance your digital marketing strategy to improve digital presence, or even aiming to nurture interactions or convert leads to customers, Hotmob has much more to offer.
Drop down your contact and our sales team will get in touch with you very soon.