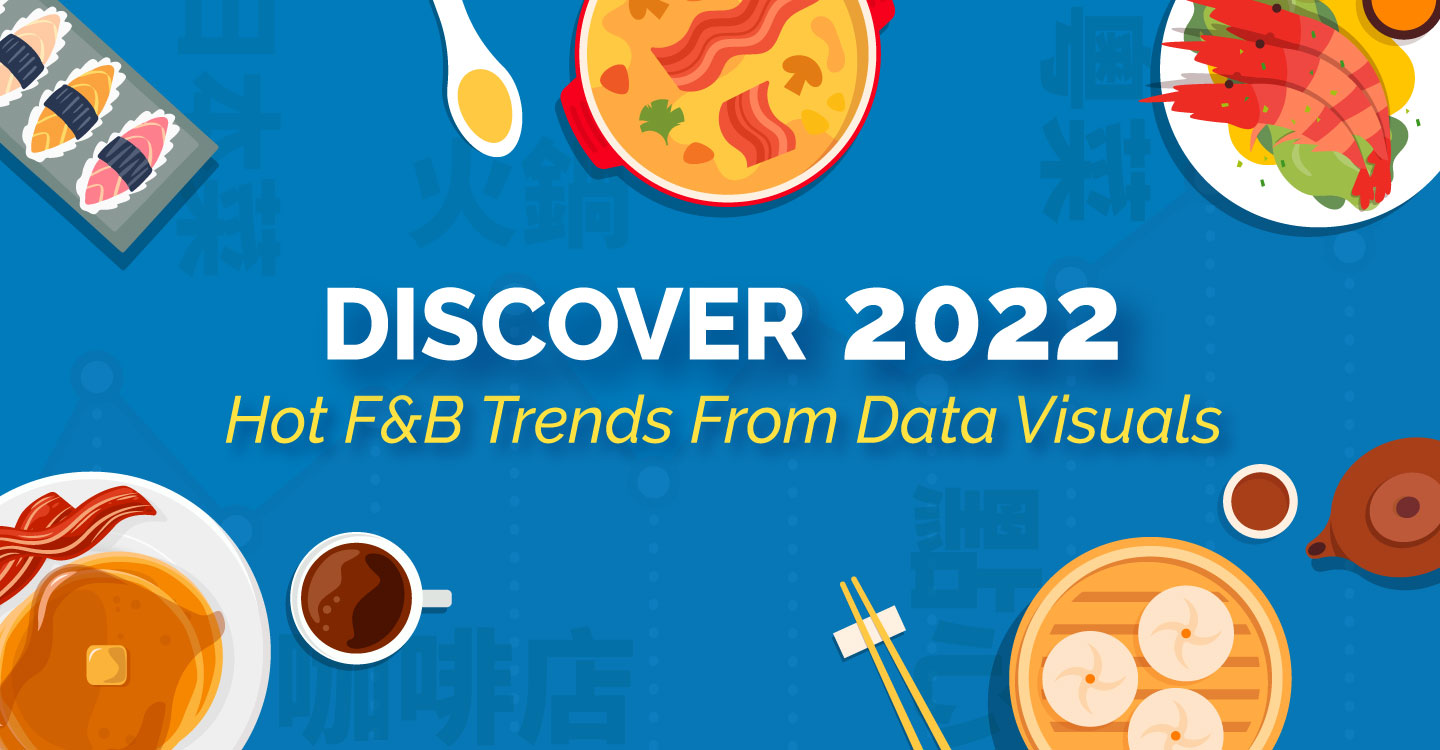 Utilise Hotmob Data Dashboard for More Effective Reporting
Jan 18, 2023
Hong Kong is renowned for the name "Gourmet Paradise" (美食天堂), which offers a wide variety of cuisines and never runs out of options. In early 2022, when most countries' borders were still closed, Hongkongers could only stay in Hong Kong to enjoy the dining experiences. 
In order to learn more about Hongkongers' latest digital footprints, Hotmob datahub pulled out some useful features and samples of F&B Data Dashboard service to demonstrate the hottest search keywords and web/app browsing behaviours through tracking a few famous food portals in Hong Kong.
Keyword Extraction 
Many marketers have utilised Hotmob's Keyword Extraction tool to get a better understanding of the current market trend, or a particular category or industry that they have queries towards. Due to the high volume of keywords to be analysed within web pages and articles, such a tool offers efficiency to many for putting up visualised reports in no time.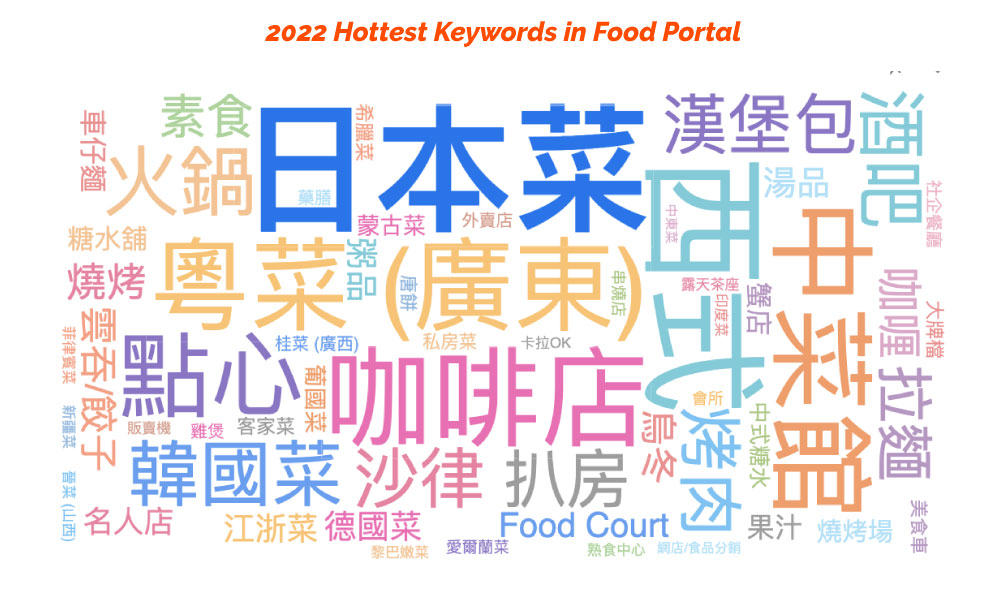 Insights:
The most popular cuisine to Hongkongers is obviously Japanese Cuisine (日本菜), which includes foods like Sushi/ Sashimi (壽司/刺身) and Omakase (廚師發辦). Within this category, data shows that people had high interests in the Japanese restaurant, "Akindo Sushiro" (壽司郎) of which the search rate had increased by nearly 50% since April 2022, due to the effects of brand popularity and fast expansion across multiple districts. 
The search rate of Cantonese Cuisine (廣東粵菜) had also increased since April 2022 when the HKSAR Government announced relaxing the social distancing measures. In relevant to this category, the search rate of keywords like Yum Cha (飲茶) and Family Gathering (聚餐) both had an increase of more than 30% by the end of December 2022, right after many Covid curbs were dropped such as scrapping the vaccine pass.
As usual, Coffee Shop(咖啡店), which is categorised under Western cuisine, had also been frequently searched by Hongkongers probably owing to the option of longer time spend at the café and also that it's a go-to place for many students and a preferred place by officers under the 'Work From Home' policy.
Various Data Visualisations
As for selective keywords analytics, Hotmob Datahub offers a variety of data visualisations and can build up a completed Analytics Dashboard for marketers to complete their jobs at ease, like in the form of Search Trendline, Spend Analytic Graph and so on. Below are a few samples generated from Hong Kong Food Portal.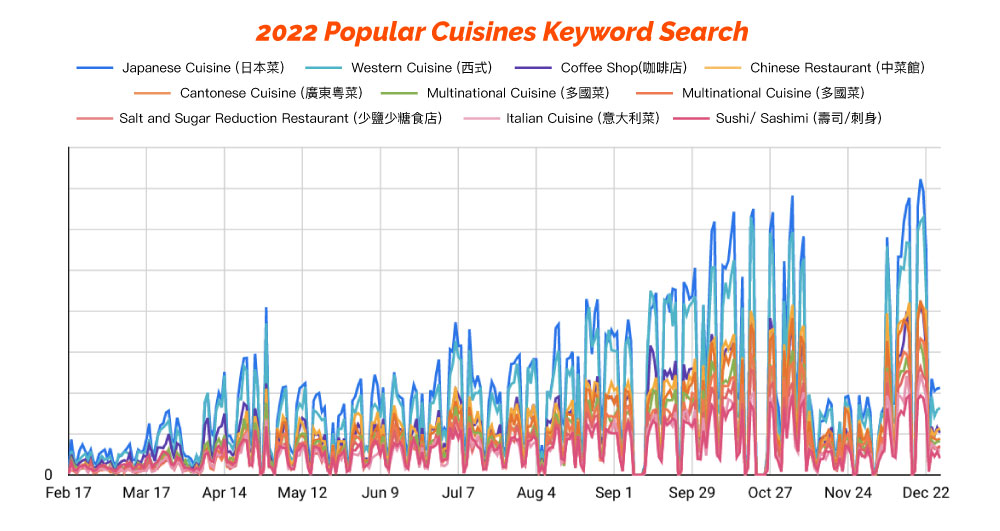 Insights:
There was a significant increase in keyword search for various popular cuisines in April 2022, which was the first stage of relaxation in social distancing measures. Besides, from September to December 2022, there was a huge increase in keyword search for restaurants, as many people had an urge to dine out after the relaxation of social distancing measures and the removal of vaccine pass requirement when entering restaurants.
Similar to the results derived from Keywords Extraction, most Hongkongers were interested in Japanese Cuisine (日本菜) and that the search trend significantly increased by fourfold in Q4 after the relaxation of social distancing measures. In another point of view, Japanese food remains highly popular among Hongkongers and it has been most sought in Hong Kong. This could be potentially due to the limitation of travel and people could not visit Japan, hence they sought Japanese food for reminiscences.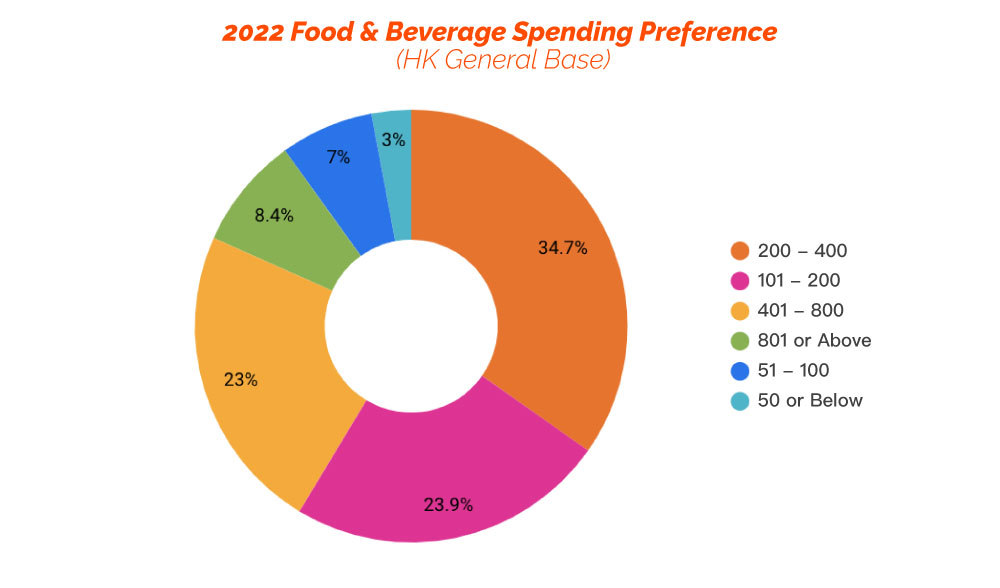 Insights:
According to the 2022 Food and Beverage Spending Preference, one-third of the Food Portal users were willing to spend over $100 per person to dine out. However, a large portion of searches were related to cafés thus most of the food and beverage spending lied within the price range from $101 to $200.
For the price range between $201 and $400, Food Portal users searched for Japanese and Western cuisines. It's worth noting that a huge increase in the keyword search for fine dining restaurants in Hong Kong, with over 30% of the users sought after fine dining restaurants at spending between $401 and $800, or above $801 per person. Omakase (廚師發辦) was ranked top in keyword search and Fine Dining (高級料理) came second, which was why people were willing to spend more on Food and Beverage as they could not travel outside Hong Kong in the first to third quarter of the year.

Insights:
Among all shopping malls in Hong Kong, the following ranked in the top 5.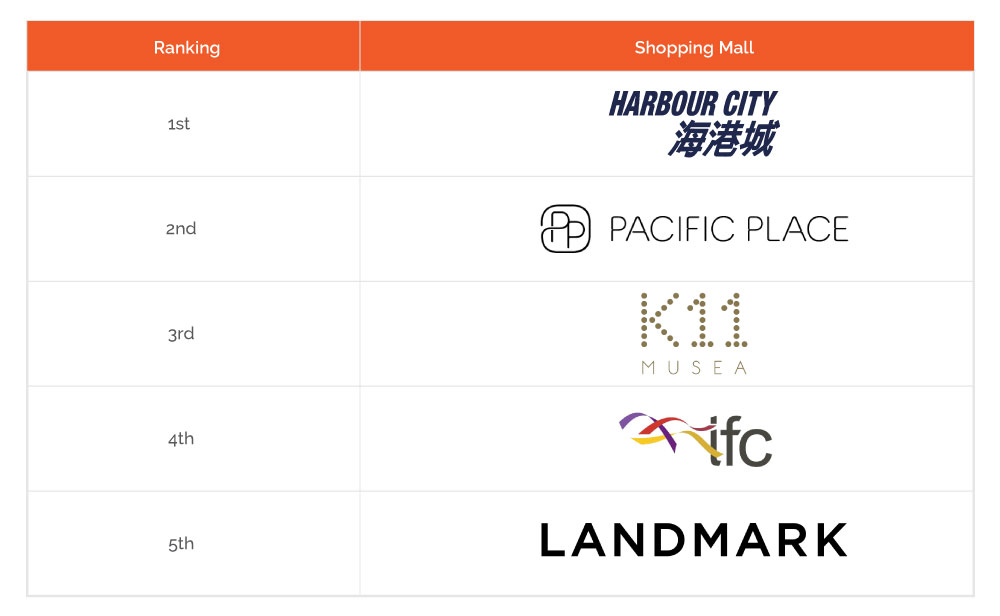 Most users of the Food Portal preferred Tsim Sha Tsui as the place to dine out, while Central ranked second. This could be potentially because Tsim Sha Tsui is seen as the middle point for most transportation and that Central with office buildings located nearby is a convenient district to seek dining after work. Both Tsim Sha Tsui and Central have a high penetration of restaurants in Hong Kong, which is why most users would search for restaurants there.
Besides, the top 5 shopping malls mentioned above provided lots of promotions and offers to shoppers hence successfully attracted people to visit. In particular, a few shopping malls offered attractive spending vouchers to shoppers who dined at restaurants in the mall.
Harbour City features the highest density of restaurants among all, thus it ranked at the top due to the ability to offer a wide variety of choices.
Take Advantage of F&B Data Dashboard
In a nutshell, whether you are looking for insights for marketing activities planning or need support to analyse a great deal of data regarding your industry, Hotmob Datahub can provide marketers the insights that are needed including but not limited to industry-based insights with data visualisations and reporting features.
The F&B Data Dashboard service offers marketers quick or full reporting in detail. By looking into the dashboard, you can:
Gain a better understanding of the latest keyword search trend of F&B industry

Learn more about your customers' spending preference and behaviour

Track the hottest locations of where your target customers would spend time in
Drop us a line and discuss your needs with our sales team.