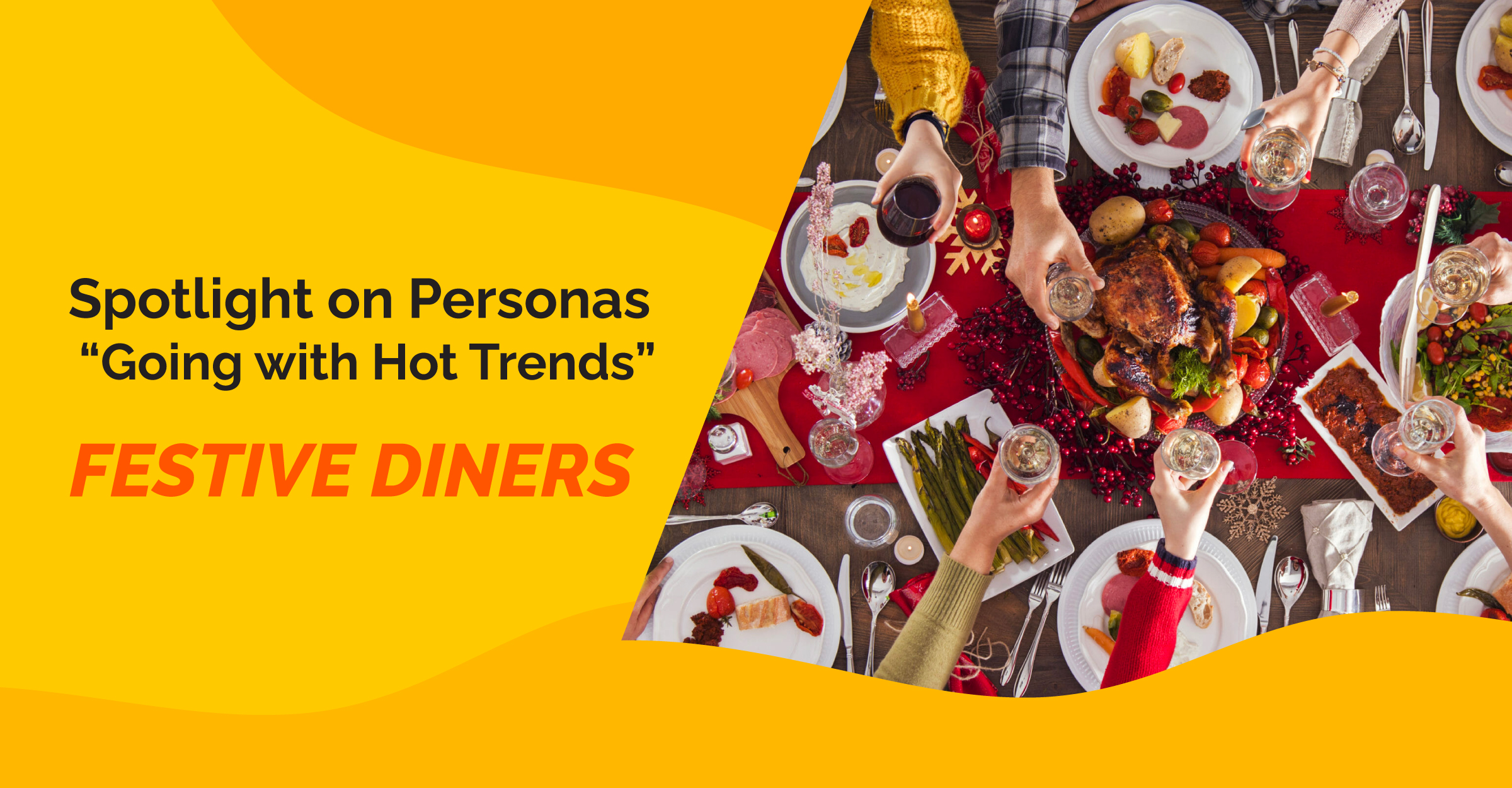 Spotlight on Personas - Festive Diners
October 19, 2021
Spotlight on Personas - "Going with Hot Trends"
A wonderful time of year is coming and you should be looking forward to the fun and festivities! Your customers will also be looking forwards and planning events, purchases, staycations and many many things just like you. Hotmob AI can help you identify and create custom audiences. 
Take a look the example below for a large well known F&B delivery company that were interested in understanding wider dining trends and market intelligence - Festive Diners.
There's no need to guess anymore, read more on our series to unlock Hong Kong Data Driven Audiences.
Hotmob Data Pulse Engine
Using multiple data points from various sources such as F&B applications, dining articles, publisher partners and many more contributors, our Data Pulse Engine is able to understand and map the dining and F&B trends.
This dining pulse gives insights into:
what cuisines and restaurants are hit at the moment 

what are the customers searching for

what eating habits and trends occur at different times (e.g. during Hong Kong public holidays)
Did you know that Traditional Chinese Cuisine restaurant content consumption and search levels raise 2-3X on average per Chinese Festival, and typically the majority of content surrounds large restaurant venues,  a clear indication of larger family sizes or group bookings.
Sketch Personas
During the COVID-19 pandemic, individuals significantly drop in the frequency of dining out. However, Hotmob found from Dining Pulse Data, 68% of them still tend to have their festive dining out and 32% tend to cook at home or order food delivery.


Insights for Marketers
The time window of September 1st - December 31st, 2020 was analysed to determine what type of foods and cuisines the persona groups (from AI Modelling) were interested in and what payment method they typically used.
Group 1 - Office Bound
Hong Kongers in this group have demanding schedules and need to be efficient with their time. Typically they stay in the office and order takeaways for their lunch and overtime working hours or eat very close by. They prefer higher end restaurant experiences (with high service ratings) and enjoy time with family and friends during festive seasons (group bookings), and the spending power of this group of people is comparatively high with the tendency to pay by Credit Card.
Personas: Company Owners, Office Workers & Working Moms
Spending Amounts: 1.3K - 5K
Strategies: Offer rebate or groups booking offers (added value service) to encourage them to use in their next purchase instead of one-time purchase. 

Group 2: Deal Hunters
This group of people is sensitive to price and disloyal. They are willing to devote time to searching for the best deals and very active to share their findings with friends. Therefore, Deal Hunter will start to research at an earlier time and be active on social media.  The spending power of this group of people is comparatively low. The payment method depends if the deal is related to that. 
Personas: Parents, Young Couples, Newly Weds & Office Workers
Spending Amounts: 500 - 1.5k
Strategies: Use keywords like "Sales", "Promotion", "Deal", "聖誕大餐優惠", "聖誕 staycation package" and bundle offers. Hook the festive Deal Hunters and rope in their friends to become your customers. 

Group 3: Festive Hosts
From decoration to catering preparation, Festive Hosts take the planning and execution role.  They would like to create happiness and enjoyment for their loved ones. Festive Host spending power is comparatively high since they are responsible for merchandise for a group of people. Festive Host is also actively seeking promotions and coupons.
Personas: Housewife, Parents, Company Owners & Foodies
Spending Amounts: 1k - 4k
Strategies: Track their browsing footprint and get to know what they are interested in and deliver the related content to them.