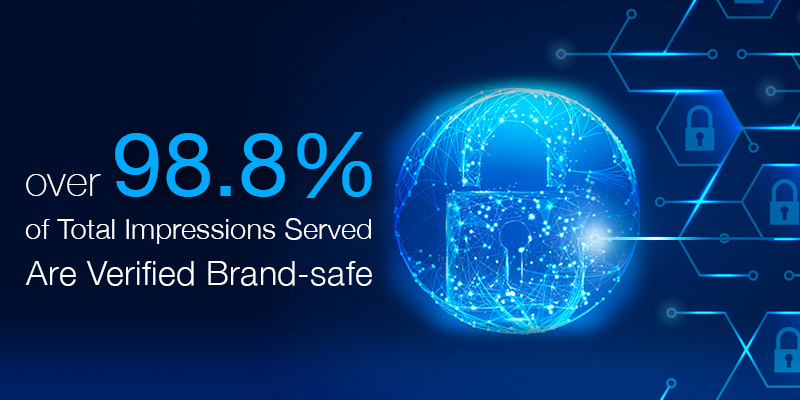 How To Turn Brand Safety From Zero To Hero
September 4, 2018
Brand safety is not a buzzword or a trend but a course of action that should be taken by brands and advertisers to protect a brand's reputation. While there are limited things which you can do to address brand safety concerns on social media platforms, Hotmob and IAS work together since the start of this year on verifying the impressions served on Prime Ad Network and Alcanzar DSP.
Case Study and Result
According to Integral Ad Science (IAS) August reports for a series of Hotmob's client campaign, it appears that over 98.8 percent of total impressions served through Hotmob Prime Ad Network is eligible as brand-safe and viewable. The average brand risk for global in-app display is 95.8% according to H2 2017 IAS Media Quality Report, and Hotmob is right above it. The majority of campaign selected mostly low to moderate risk in terms of the degree of acceptance to the specified content category.

Below is a list of IAS brand safety measures of harmful contents to a brand. Advertisers can add this service before its campaign launch, depending on the brand's brand guideline and select the level of risk that a brand can bear for each type of harmful contents.

Source: IAS Brand Safety Guide
Brand's Safety, Our Priority
What is considered as a brand-safe environment has always been Hotmob's top priority when selecting quality publishers to include in Prime Ad Network. Now that Hotmob offers IAS third-party measurement to verify impressions by identifying and preventing risky content appear next to a brand's campaign in mobile web and mobile in-app environments. This way brands and advertisers could have more control over its campaign placements and protect their brand's reputation.
Let us know if you have any inquiry about brand safety, viewability or ad fraud concerns, our team provides complimentary consultation at your needs.