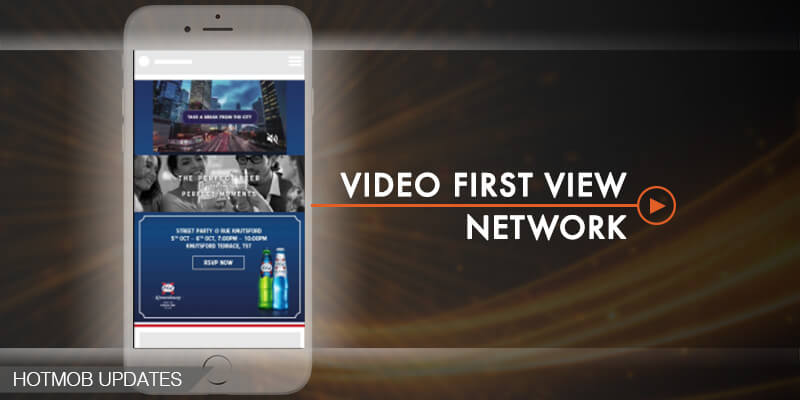 Hotmob Launches First View Video Network That Complies With Brand Safety
Hong Kong, April 3, 2017 – Hotmob, the leading mobile marketing company that operates the largest hybrid mobile advertising marketplace in Asia region, today announced the launch of First View Video Network curating selected premium mobile app and web inventories that comply with brand safety and can achieve viewable impression.
Today smartphone users are frequently exposed to static banner ads and are distracted by the apparent clutter on mobile apps and within browsers. The average users now spend more time watching videos on mobile devices than watching traditional broadcast TV, given that 98% of 18- to 34-year-old users find themselves less distracted when watching videos on smartphones according to Google's research.
Advertising with mobile videos enables brands to convey a more in-depth message to the audience. The video ad format's high visibility can command higher CPM, which is why publishers are making more of their content available for digital advertisers to run brand campaigns on mobile platforms. It is also why spending on mobile video advertising is already growing faster than any other digital advertising formats.
Hotmob CEO Johnny Wong said, "Advertisers continue to demand for more premium video inventory with emphasis on ad position, editorial quality of the platform and viewability. First View Video Network provides brand-safe environments where brands' video ads will only appear on mobile apps or web platforms with appropriate content that are highly targeted to quality local smartphone users."
Video First View's advanced instant play feature is driven by Hotmob's proprietary video technology that offers high visibility for a campaign. The ad appears when user opens an app or mobile web page from the First View Video Network, which captures the user's attention without an explicit action to start the video. The mobile video ad unit achieves 100% viewability as it is positioned above the fold and it is visible on mobile screen for at least 3 consecutive seconds, thus adhering to the MRC's guideline for mobile viewable video ad impression.
About Hotmob
Hotmob is the leading mobile marketing company that operates a hybrid mobile advertising marketplace to offer premium and performance-driven mobile advertising solutions, which are facilitated by proprietary advertising technologies and robust ad-serving platforms to meet the growing demand from businesses across Asia region.