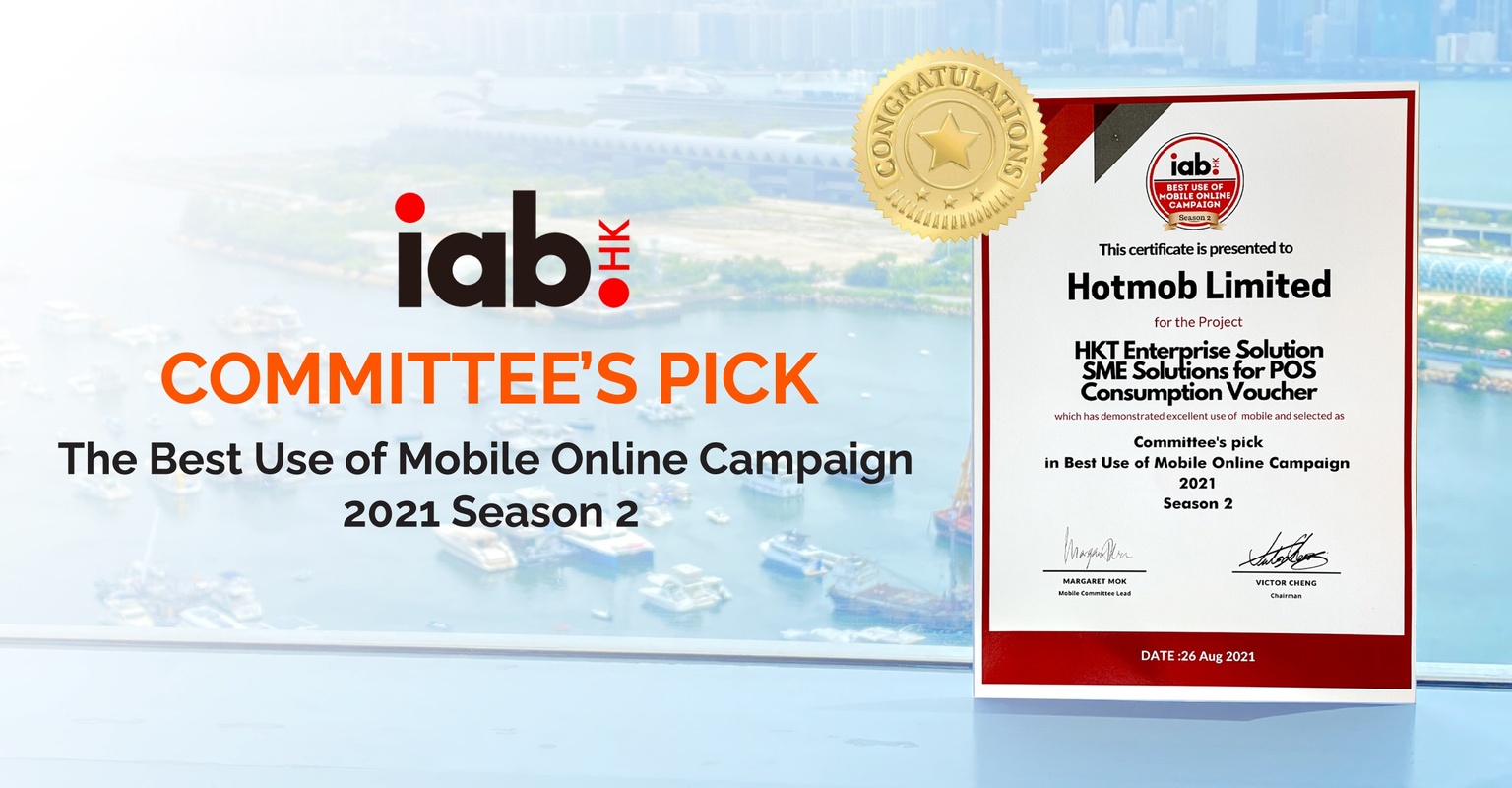 IAB HK Committee's Pick- Best Use of Mobile Online Campaign 2021- Season 2
September 09, 2021
Congratulations to HOTMOB for winning "Best Use of Mobile Online Campaign 2021- Season 2" by IAB Hong Kong Committee. In this ever changing and competitive market, brands and marketers face various challenges in planning and running their marketing campaigns effectively. HKT Enterprise Solutions partnered with HOTMOB to carry out a marketing campaign aimed at offering their SmartPOS solutions to the SME and startups groups. 
Campaign Objectives:
1. Drive quality conversions by leveraging HOTMOB mobile solutions
2. Gain valuable customer insights by fully tracking on target audience digital footprints for future campaign optimization
3. Create massive awareness to HKT Enterprise Solutions within their target audience
4. Explore multi-digital channels for leads generation
5. Establish user friendly and professional creatives within target audience
6. Provide a user friendly POS solution for SME to take the chance to grasp the amounts of Consumption Voucher from customer
Executions:
1. Hotmob Mobile Universe
Utilizing HOTMOB high network coverage programmatic ad network to setup target audience, ad groups and budget plan to reach as much target audience as possible.
2. Cross-channel Programmatic Buying Approach
Combining the 1st party data collected in the initial stage of the campaign. HOTMOB A.I. machine learning mechanism provides further actionable insights by using our exclusive mobile apps data, web data and 3rd party datasets.
3. HOTMOB Premium Placement
HOTMOB's own exclusive Prime Ad Network covers a majority of Hong Kong's highly qualified platforms across mobile application, mobile web and desktop web.
Result:
1.8M+ Delivered Impressions

200k+ New Re-marketing Users
Finally, this campaign has been recognized and awarded by IAB Hong Kong Committee's pick in Best Use of Mobile Online Campaign 2021- Season 2 on 26 August 2021.